Women in Sport
The Northern Territory Government is committed to growing women's sport in the Territory and improving female participation and leadership opportunities for women in sport.
Key focus areas of this commitment include:
Improving and increasing the opportunities for women and girls to participate in sport and sport leadership
Encouraging gender balance
Creating female sporting opportunities across the Territory
Improving culture and appropriate infrastructure of Territory sporting clubs and organisations
Improving engagement with women and girls.
For more information about women in sport email womeninsport@nt.gov.au.
She Plays NT
She Plays NT aims to increase the profile of women in sport and encourage more women and girls to be active.
Help promote women in sport and enter the #ShePlaysNT competition.
Find out more about the She Plays NT campaign.
|
In 2019, the Northern Territory Government committed to working with Northern Territory Peak Sporting Bodies (NT PSBs) to establish a pathway for sporting organisations to achieve 50% female representation in executive boards and committees. This commitment is in line with the National standards, which were increased from 40% in late 2019.
As part of this commitment, the Northern Territory Government has established an expression of interest register with the purpose of providing candidate contact information to sporting organisations for recruitment to vacant board and committee positions.
You can register your interest in serving on a Northern Territory volunteer sporting organisation board or committee by completing the online registration form.
Things to consider before you register:
This register is for consideration in volunteer board and committee positions.
This register is open to both adult men and women, with the aim to achieve gender balance.
Candidate contact information will be provided upon request to NT PSBs for the express purpose of board and committee recruitment.
Registering your interest does not guarantee a position on a board or committee, but it does indicate agreement for your contact information to be provided to NT PSBs upon request.
Eligibility for some PSB boards and committees is restricted to members of the sport. Where this provision applies the sport will notify you during the position recruitment process and membership will need to be established.
The Northern Territory Government does not manage or own any of the NT PSBs.
An independent Women in Sport Advisory Committee operated in 2018. With 10 members from a wide spectrum of sports the committee was established to provide strategic and practical advice that would improve the delivery, recognition, promotion and development of participation and leadership opportunities for women in sport in the NT.
Members offered experience and knowledge of:
Sport in the Northern Territory and/or Nationally
The sport and recreation landscape in Northern Territory (grass roots to elite)
Club Management and Operations
Volunteer Management
Sport and/or Business Management
The Advisory Committee held its final meeting in November 2018 and produced a final report with recommendations to be considered by the Northern Territory Government in mid-2019.
As a result of this report, seven key initiatives have been established and are being implemented by the Department of Tourism, Sport and Culture. These initiatives are detailed in the Women in Sport Advisory Committee report summary PDF (119.9 KB).
Read the Women in Sport Advisory Committee Terms of Reference PDF (155.4 KB).
Former Advisory Committee Members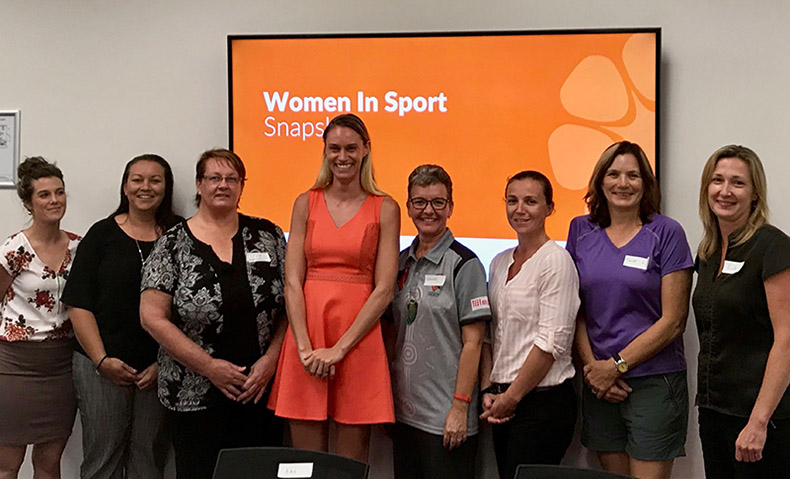 Left to right: Brittany Ward, Sheralee Taylor, Sue Marshall, Alex Billeter, Louise Morrison, Trudy Grenfell, Sue Kendrick, Ewa Finch.
Not pictured: Suzi Hullick and Shahni Wellington
Last updated: 05 June 2020
Share this page: