Surveying Darwin and the Northern Territory
In February 1869 George Woodroffe Goyder came to Port Darwin with a team of surveyors to map out Palmerston (later Darwin) and surrounding areas.
The South Australian Government was keen to establish a permanent settlement in the Northern Territory (NT). Needing funds to do this, the government legislated to allow the sale of land prior to survey, with a five year deadline for survey and selection of lots. By 1868, with the five year deadline looming and failed attempts to establish a settlement, the government commissioned Goyder to undertake a survey of land. Survey for both a township and surrounding country was required as each land holder was also entitled to a town block.
After examining reports of previous explorations and surveys Goyder chose Port Darwin as the site for the proposed settlement.[i]
George Woodroffe Goyder was born in Liverpool in 1826 and immigrated to Australia in 1848. In 1851 he commenced work as a draftsman in South Australia and was appointed Surveyor-General in 1861. Goyder is well known for his survey and exploration of pastoral districts in South Australia, travelling extensively by horseback and earning a reputation as a man of energy.[ii]
Goyder and his survey team arrived on the ship Moonta on 5 February 1869 and set up camp near Fort Hill.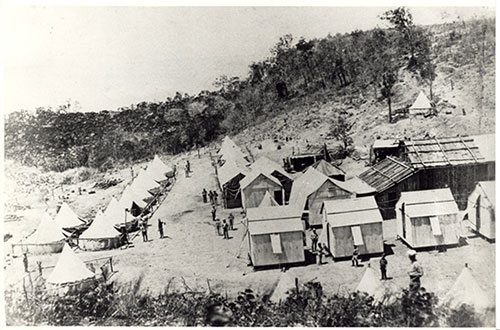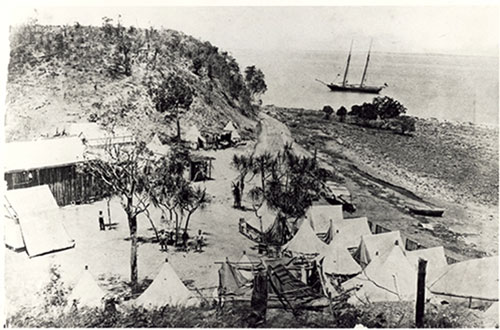 Surveyors' Camp, Port Darwin, NTAS, NTRS 234, CP225 and CP226
A diary of George Woodroffe Goyder is in the collections of the Northern Territory Archives Service. This diary covers the period from 5 February to 1 March 1869 and has a daily log of activities of the party including the construction of the camp, search for fresh water, survey work for both township and surrounding country and information about the health and livestock of the survey team.
On 22 February Goyder completed the design for the township at Port Darwin. Survey work commenced immediately. Many of the street names are those of the senior members of the survey party.

AH Smith's Survey field book, July 1869, showing a survey plan of Darwin CBD with Cavenagh Square, which was bordered by Cavenagh, Woods, McLachlan and Peel streets. NTAS, NTRS 3749, Item X. Please click image to view a larger version.
Surveyors from Goyder's party used small leather bound field books to record their work. The surveyors' field books also include sketches of survey camps, astronomical observations, mentions of major incidents such as the spearing of John William Ogilvie Bennett and other notes.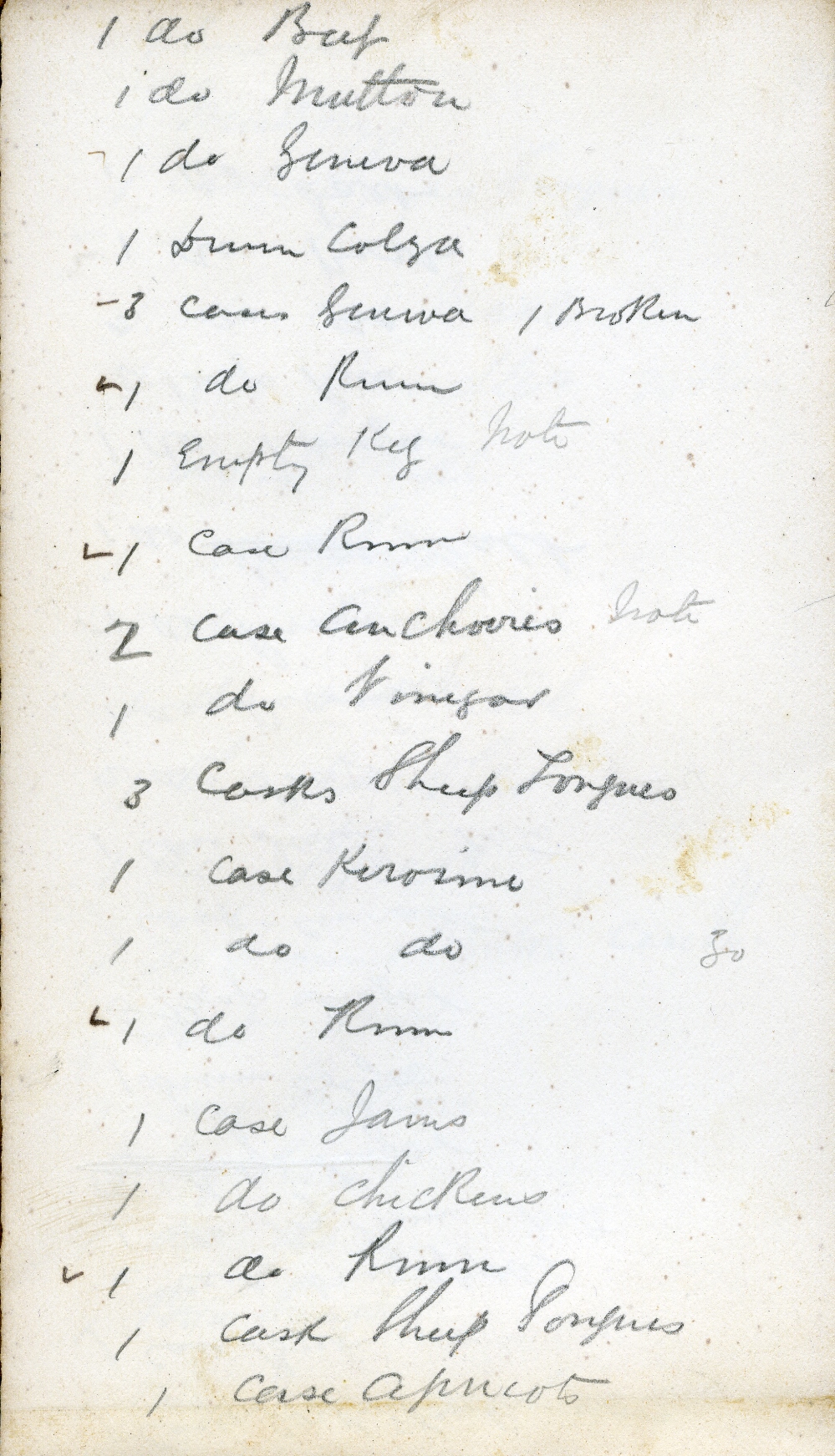 EM Smith's surveyor notebook, ca 1869, showing a list of supplies for the survey party. NTAS, NTRS 3749, Item H
From the survey field books, survey diagrams were prepared. The Survey diagrams record the survey details for an area or portion of land and are certified and dated by a surveyor. They have been bound together into various survey diagram books.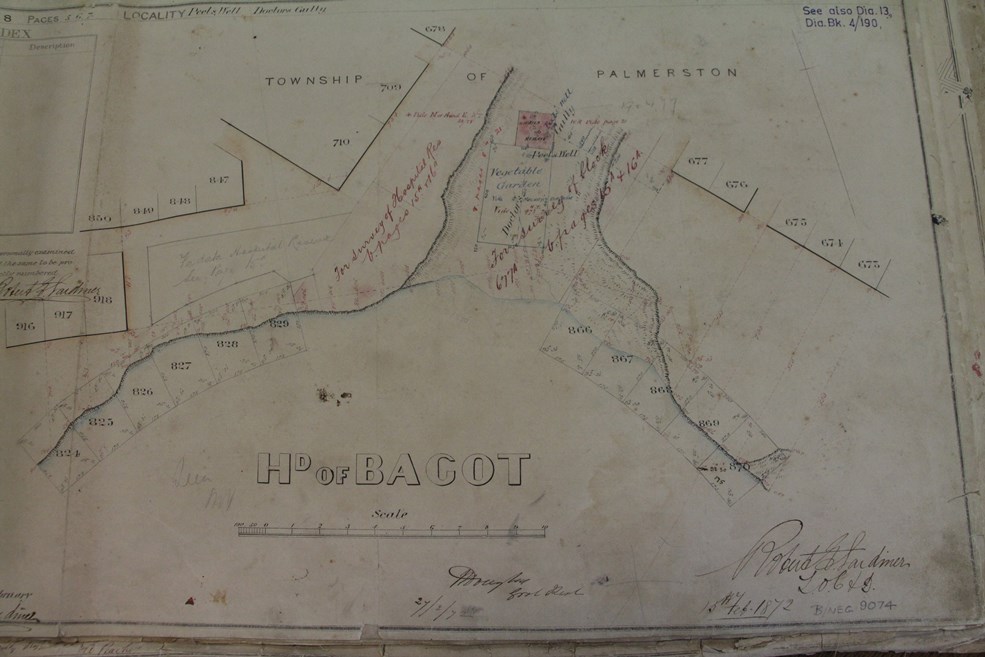 Survey diagram showing Doctor's Gully in Darwin CBD. NTAS, NTRS 3738, Volume 1
Maps of the Northern Territory were drawn from the early survey records. They show the distribution of pastoral land and town allotments.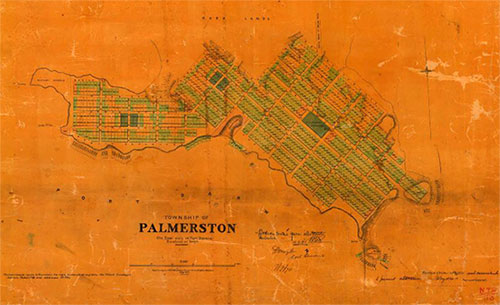 Township of Palmerston on East side of Port Darwin, Hundred of Bagot. Portion tinted green
allotments selected 16.9.1870. NAA, A6128, NTR113
Aerial photographs are important records used to establish the history of land use and for preparations of maps and plans. One of the first uses of aerial photography for the Northern Territory was for the construction of the Stuart Highway immediately after the Second World War.[iii] The Northern Territory Archives Service holds an extensive collection of aerial photographs. The earliest aerial photographs held by the Northern Territory Archives Service are from 1941.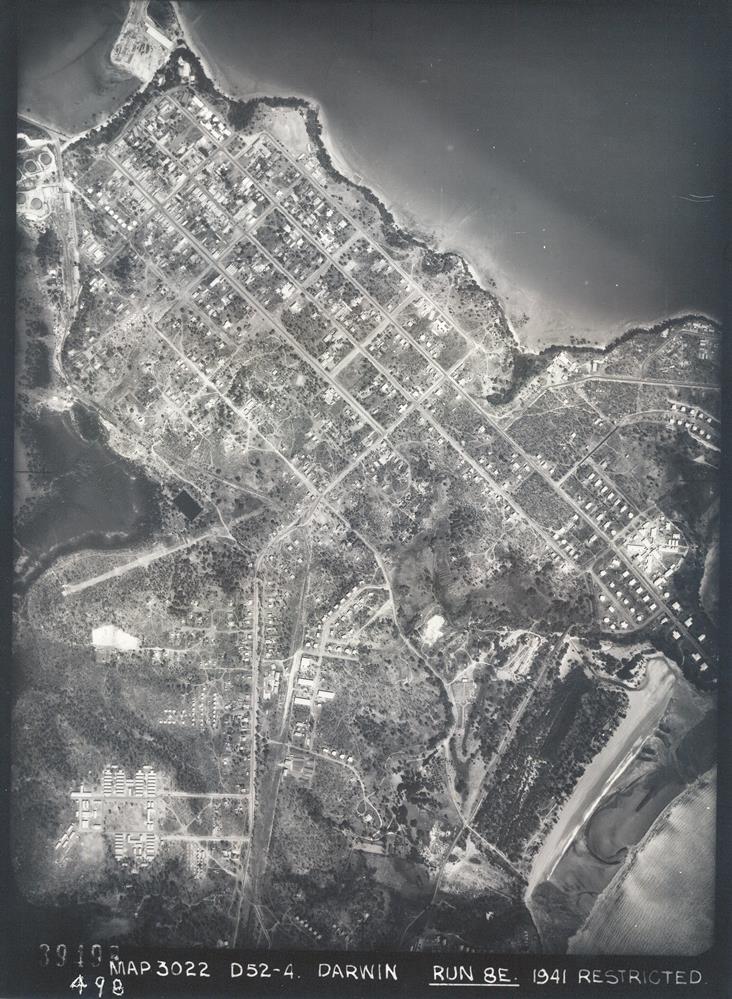 Darwin CBD, 1941. Accession 2015/37, Film MAP3022, Frame 39498
Early survey records and archives such as Goyder's diary, surveyors' field books, survey diagrams, survey registers, aerial photographs and maps held by the NT Archives Service and the National Archives of Australia provide a glimpse into surveying the Northern Territory over time.
A reference copy of the diary can be accessed in the Reading Room of the Northern Territory Archives Centre. You can read a digitised copy of Goyder's diary PDF (2.6 MB) or a transcript of the diary PDF (5.4 MB).
State Records of South Australia holds another diary that Goyder wrote about the Northern Territory Survey Expedition of 1868-1870. For details of this diary, search the State Records of South Australia database.
Charles Darwin University (CDU) Library holds a microfilm copy of the diary held by the State Records of South Australia. For details, search the CDU Library catalogue with the search term "Northern Territory Survey Expedition".
To search for survey records, go to Archives Navigator. As archives are continually being added to the system, check the list of holdings PDF (901.6 KB) for a complete list of record series held by the NTAS, including inherited Commonwealth series.
Aerial photographs can be discovered through the Aerial Photos Online index http://www.ntlis.nt.gov.au/imfPublic/airPhotoimf.jsp. In addition to this, the Northern Territory Archives Service has other aerial photograph collections.
For more information about survey and aerial photograph records, contact the Northern Territory Archives Centre.
References
i Commonwealth government records about the Northern Territory, Ted Ling, National Archives of Australia, 2011
ii 'Goyder, George Woodroffe (1826–1898)', Australian Dictionary of Biography, National Centre of Biography, Australian National University, http://adb.anu.edu.au/biography/goyder-george-woodroffe-3647/text5683, published first in hardcopy 1972, accessed online 22 February 2018.
iii Information provided by Earl James, author of "The Spinifex is Green"
Last updated: 09 May 2018
Share this page: