Houseboys in Darwin
Victoria Haskins found a wealth of information in the archives' oral history collection for her research about Aboriginal houseboys in Darwin in the first half of the twentieth century.
"… the most important for me have been the oral histories. … I only wish that such collections were available elsewhere in Australia. I also carry out research on Native American domestic service in local and federal archives in the USA and have not seen a collection in the USA that comes close to the NT's oral history collection."
Read Victoria's article below to discover how the oral history collection enriched her research.
"The beautiful boys" – Aboriginal houseboys in Darwin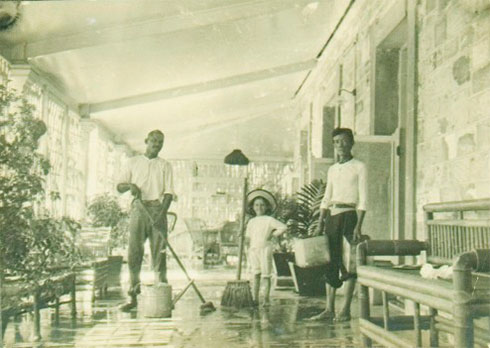 Shephard, Dobie and Margaret (Gilruth) washing verandah, Government House, Darwin NT
Gilruth Family, NTRS 3427, Reference copy of photograph album of Gilruth family, ca1912-1919, item 12
One of the distinctive features of Darwin society in the first half of the twentieth century was the reliance of the town's residents on Aboriginal men for household labour. Although Aboriginal women and children, rather than men, had worked in the township during the nineteenth century, under federal government control from 1911 men came to dominate domestic service in Darwin. Indigenous men of the local Larrakia people and from further afield, especially from the Tiwi islands of Bathurst and Melville, performed all sorts of domestic labour, including yard work and messenger work, for private families and small businesses. In the households of Darwin's privileged government officials and business leaders, they replaced the Chinese houseboys who had been employed before Federation and the infamous Immigration Restriction Act of 1901. Sam Kundook, who worked along with his wife Silver for the Territory's Administrator, C. L. Aubrey Abbott, in 1940s, is commemorated in one of Darwin's street names. But others are not so well-known.
We can, however, find out something about these men and their lives from the oral histories collected and preserved by the Northern Territory Archives Service Oral History Unit since 1979. Unfortunately, nobody seems to have thought to interview any of the former Aboriginal houseboys, but numbers of former employers were interviewed, who reflected upon the experience of employing Aboriginal male workers. These records give a unique and rare insight into an Australian history of Indigenous houseboys.
The recollections of former employers are often strikingly positive. Edna Tambling, a teacher in Darwin in the 1930s, spoke warmly of the 'beautiful boys' who 'helped me all the time.'1 Arthur Black's servant Nim was 'lovely to be with',2 and George Anson's houseboy Joe was 'a lovely old boy'.3 For Betty Duke, a nurse who arrived in Darwin in 1939, her houseboy, the unfortunately named 'Strangler,' was 'the loveliest lad that you could ever wish to meet':
He used to love the children. … he was the most gentle, kind person that you could ever wish to meet. We could leave the children with him, and he'd protect them with his life.4
Duke had been originally unnerved by the visible presence of black men in Darwin, but came to appreciate and admire Aboriginal people through her employment of Strangler. 'I thought they were tremendous,'5 she recalled in what seems to have been a standard employer's refrain. Emma Lawrence and Hazel Mackey both remembered the men who worked for them with evidently strong affection – Lawrence's John was 'a very good-natured fellow' and Mackey doted on Willie, who regaled her with ripping yarns about his early career as a buffalo-shooter.6 Even India-born Mollie Leslie, who confessed that she had found the Aborigines 'a bit of a shock at first' when she came to Darwin, admitted that her houseboys Paddy and Barney were 'pleasant' company – 'they had [a] good sense of humour and we found we could talk.'7 Others, like Eunice Burstow, described their Aboriginal workers as their 'friends.'8
Many former employers detailed the kind of work carried out by their Aboriginal houseboys. Although there was a general preference of employing men for outside work and women for inside work where possible – as Jene Thompson put it, 'A girl for the house, and a boy for the garden'9 – in practice Aboriginal men often worked in the house itself when it came to Darwin's most privileged employers. Bernadette Wing, the wife of the Holmes Estate manager and right at the top of Darwin's social set, maintained a large household consisting of a young Chinese woman for the cooking, a mixed-descent woman from Goulburn Island to look after the children, a mixed-descent housemaid from the Kahlin Half-caste Home, and two Aboriginal houseboys.10 Wing explained that her long-term houseboy, Nipper, 'did everything – swept the verandahs and, you know, polished the shoes and all that sort of thing' assisted by the other man.11 In other households at Myilly Point where Darwin's elite resided, there was a similar reliance on Aboriginal men for sweeping, cleaning and general housework, which often included washing and ironing as well as wood-chopping.12 Hugh Barclay's Aboriginal houseboy, who worked for him in the late 1940s and into the 1950s, began with the morning task of cleaning the master's shoes (before breakfast), followed by the washing up, and then the washing (of his own clothing). He then had a 'definite set of duties to carry out' until lunchtime, after which time he could leave if his work was completed. Barclay tried to get him to do some outdoor work as well, but he 'always regarded himself as purely an inside boy and I soon gave up'.13
One of the most flamboyant and well remembered uses of Aboriginal male domestic labour was as punkah-wallahs – a cultural import from the British Raj, with servants employed specifically to pull manual fans for cooling and keeping away insects. Elite private homes – including the Administrator's residence – had punkah fans and Aboriginal men to operate them, as did the very 'Pukka Sahib' British telegraph company dining room, and the first-class dining rooms of Darwin's best hotels.14 Perhaps the most ostentatious use of Aboriginal male domestic labour, however, was a fashion during the 1920s to have an Aboriginal man receive visitors at the door, as recalled by Bessie Robinson, nee Drysdale:
… my dear, you had cards in those days when you called on anybody. You put your card. The native came up with a – they used to have pearl shells (pearl shells were all over Darwin), and they used to have pearl shells with three knobs on the bottom of them, and the native would come to the door and he'd hold the pearl shell out and you would put your card in it, and then he would take it inside and see if his mistress would see you, you see. And then he would say, "All right, missus home. Would you come in please." ...15
A romanticized nostalgia for a time when Aboriginal men were 'lovely' boys and 'loyal' servants might be read as an index of the tensions and resentments among Darwin's older residents followed dramatic social changes from the 1960s, which included Aboriginal voting rights and the right to equal pay. Employers sometimes made explicit and unfavourable comparisons with the present-day situation, such as Eunice Burstow, who told her interviewer that she thought it 'ridiculous' that Aborigines were now entitled to 'the basic wage and that sort of thing': they were 'lazy' and unused to work, she asserted, and had be taught how to work 'like children'.16
Indeed, when it came to the subject of wages and conditions, the former employers' recollections were often defensive. They generally recalled that Aboriginal employment was 'governed by the government' and required permits17 but many were vague about the details. 'We just kept them like your own child,' Bernadette Wing recalled. She couldn't remember how much she paid her houseboys although it 'wasn't very much' – 'But they didn't need very much, just to go the pictures and things like that.'18 Edna Tambling had a few qualms in her interview: 'I wouldn't say that we ill treated them because we sort of saw that they got everything they wanted and more or less they were satisfied. … But no, I think it was a very good arrangement, and at the same time –'.19 Dulcie Stahl complained that she found Aboriginal workers unreliable, but 'I don't blame them for that because when you look back we exploited them.'20 She was much happier in the 1950s when she started employing white women instead of Aboriginal men, 'and paid properly for it. I liked that much better.'21 Ironically, it was a less-privileged former employer who expressed the most discomfort about this history. Louis Harmanis, whose Greek family employed Aboriginal people 'on and off' when they could afford to do so, told his interviewer:
You felt sorry for them, they were good people, but you mustn't forget that the whites were only getting 3 pounds a week and they used to give 5/- or 10/- out of it. That was a lot of money out of it. Then sometimes you clothed them and whatever you cooked you gave them you know, or the left over, or half a loaf of bread or flour. But they were like beggars, which is wrong you know. I think they were trodden you know. … And you know when you think of it, it was their country, and then treated like that.22
Endnotes
Edna Tambling TS 125, tape 2, side A, 21.
Arthur Black TS 14, 13.
George Anson TS 612, tape 1, 9.
Betty Duke TS 791, side A, tape 1, 4-5
Betty Duke TS 791, side A, tape 1, 5.
George Anson TS 612, tape 2, 11-12, 17; Hazel Mackey TS 625, tape 2, side A, 6-7.
Mollie Leslie TS 475, tape 1, 27.
Bessie Robinson, TS 112, tape 3, side 2, 70; Eunice Burstow in Tom Burstow TS 23, tape 2, side B, 6; Arthur Black TS 14, 13.
Jene Thompson TS 422, tape 2, side A, 2; see also Arthur Black TS 14, 8.
Bernadette (Bunny) Wing TS 611, tape 1, side A, 3-5.
Bernadette (Bunny) Wing TS 611, tape 1, side A, 4, 5.
Emma Lawrence, TS 464, tape 2, 10; Margaret Bell TS 158, tape 1, side A, 19, 21.
Hugh Carey Barclay TS 6, tape 16, side B, 346.
Betty Dangerfield TS 187, tape 2, 5; Lionel Lockwood TS 265, tape 1, side B, 13-14; Bessie Robinson, TS 112, tape 3, side 1, 49; Arthur Black TS 14, 33-34; Ellen Cramond TS 483, tape 3, side A, 1; Sarah Feeney TS 1011, tape 1, side A, 33; Beryl Cashman TS 25, tape 1, side 1 [?], 11.
Bessie Robinson, TS 112, tape 3, side 1, 49.
Eunice Burstow in Tom Burstow TS 23, tape 2, side B, 6; see also Mollie Leslie TS 475, tape 1, 27; Edna Tambling TS 125, tape 2, side A, 20-21.
Arthur Black TS 14, 14; Dorothea Lyons TS 84-1/2, 5-6.
Bernadette (Bunny) Wing TS 611, tape 1, side A, 5. See also Hazel Mackey TS 625, tape 2, side A, 6; Dulcie Stahl TS 122, tape 2, side A, 50.
Edna Tambling TS 125, tape 2, side A, 25.
Dulcie Stahl TS 122, tape 2, side A, 50.
Dulcie Stahl TS 122, tape 2, side B, 95, 96.
Louis Harmanis TS 63, 66.
Sources
Northern Territory Archives Service, NTRS 226, Typed transcripts of oral history interviews with 'TS' prefix, 1979-ct
Anson, George TS 612
Black, Arthur TS 14
Burstow, Tom, TS 23
Cashman, Beryl, TS 25
Cramond, Ellen, TS 483
Dangerfield, Betty, TS 187
Duke, Betty, TS 791
Feeney, Sarah, TS 1011
Harmanis, Louis, TS 63
Leslie, Mollie, TS 475
Lockwood, Lionel, TS 265
Mackey, Hazel, TS 625
Robinson, Bessie, TS 112
Stahl, Dulcie, TS 122
Tambling, Edna, TS 125
Thompson, Jene, TS 422
Wing, Bernadette (Bunny), TS 611
Further reading
The names of about twenty different men who worked as domestic servants in Darwin between the 1920s and the late 1940s, and their employers, are listed in the appendix PDF (81.1 KB).
Julia Martinez and Claire Lowrie, 'Colonial Constructions of Masculinity: Transforming Aboriginal Australian Men into 'Houseboys',' Gender & History 21, no. 2 (August 2009): 305-323.
Read more about the Northern Territory Archives Service's Oral History Unit.
About Victoria Haskins
Associate Professor Victoria Haskins, University of Newcastle, is researching the history of Indigenous houseboys in Darwin as part of a wider Australian Research Council Discovery research project with Julia Martinez, Claire Lowrie, and Frances Steel, Houseboys: A transcolonial history of domestic service in the Asia-Pacific.
Victoria is an Australian Research Council Future Fellow with the Research Institute for Social Inclusion and Wellbeing at the University of Newcastle.
She is the author of One Bright Spot (Palgrave 2005) and Matrons and Maids: Regulating Indian Domestic Service in Tucson, 1914-1934 (Arizona University Press, 2012) and co-editor of Uncommon Ground: White women in Aboriginal History (Aboriginal Studies Press, 2005).
Last updated: 15 November 2017
Share this page: